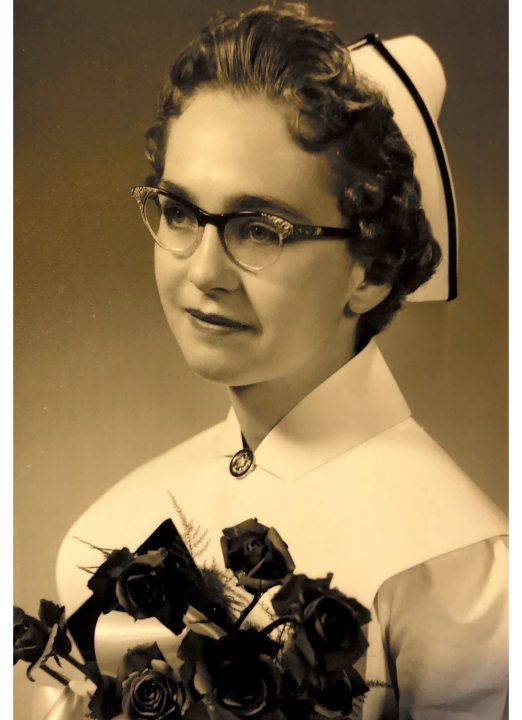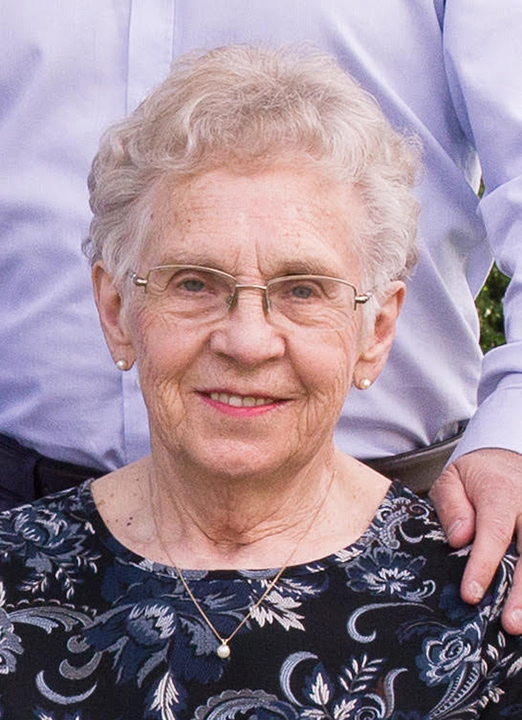 It is with profound sadness that we announce the passing of Agnes Victoria Lovsin (Eisler) of Stony Plain, Alberta and formerly of Peace River, Alberta on May 11, 2021.
Agnes was born March 16, 1936 in the small town of Cadomin, Alberta and her affection for this community plus the entire Coal Branch was clear to all who knew her. Cadomin was the place that she loved all her life. The mountains, the air, the wind and the people.
As the coal mines closed down in the early 1950s, the Eisler family relocated to Edmonton where Agnes completed high school and quickly thereafter started her nurse's training at the Misericordia Hospital graduating in 1957. Subsequent to her graduation, she was employed as an RN at the Oliver Institution, as well as at the Royal Alexandra hospital. Her family remembers how sharp she looked in her nurse's uniform with her white hat when she worked with June Skip at the cancer clinic in Peace River for many, many years. As many of her generation were, Mom was very thrifty and delayed gratification was her norm. One story was how she purchased her nurses shoes after graduation; $2.00 down and $2.00 per month until the $10.95 required nurses footwear were fully paid for.
The Coal Branch influence came calling again when our grandparents attended a wedding in Edson, and Agnes attended with them. At that wedding, a young fellow caught her eye and within a year, our folks were married on June 13, 1959. They started building a life together in Hinton followed up with a move to Peace River in 1962, which would be home to them for the following fifty-eight years. In Peace River, Agnes immersed herself in the community and as a busy Mom of four rambunctious kids plus the pals that we brought home for lunch, supper, cinnamon toast and hot chocolate.
We remember our Mom being involved in figure skating as a judge for over ten years and as club President, being the hockey arena food booth co-ordinator for over fifteen years plus being engaged with us in Brownies, Ukranian dance, track meets, baseball, minor hockey and of course, school.  We recall many times a cheer of,  "Let's go Peace River" at our sporting events and it provided us comfort that our biggest fan was there, rooting us and our team on. Mom was our fiercest defender and a shoulder to cry on, when we needed it or when we didn't need it. We just knew she was always there with us, always.
She was forever busy and working on another project. From the Octoberfest functions with Dr. Dave Willox where she had our Dad stirring the sauerkraut getting supper ready for 900 people, to being a proud member of the CWL for over fifty years, our Mom put her all into helping Peace River, the surrounding communities and her friends. Many of her friends received a piece of her world-famous Christmas fruit cake made with her special, secret recipe. It was, as our Mom said often, "wonderful". Regular visits to TJ's restaurant with the Mitchell's, the Weaver's and the Siry's provided our folks with many, many lively discussions and very fond memories.
Gardening and cooking were central to our Mom's life. Whether it was goulash, strudel, chocolate chip cookies or cross rib roast, she loved that we enjoyed eating and nothing gave her more pleasure than dishing out seconds. The spring, summer and fall were ruled by the flower beds and garden. Watering became a skill only surpassed by weeding and of course, ice tea at the break, listening to CBC on the radio. The best of times in the backyard were spent laughing, playing and enjoying the fire pit. At Christmas for the past many years, Mom became focused on making personalized gingerbread men for her own kids, her grandchildren and other special children in her life. Granny knew exactly how many she had to create and last Christmas, more than sixty of us were lucky enough to receive one.
She was our Dad's biggest fan and as the old saying goes, "Behind every successful man, is a strong woman. "  Often, he has mentioned that he could not have built our company, Freson Bros., without her. She was with him every step of the way and although they are two people, they are one person with similar aspirations, dreams and beliefs.  She shared with our Dad the range of emotions of a sixty-five year company that was born, developed and one that continues to change to this day.
Most of all though, she was a proud wife, mother, grandmother and great-grandmother who will be missed every day by her husband of sixty-two years, Frank Lovsin; her four children Mike (Gloria), Paula (Henry), Doug (Deanna), Ken (Maureen); her grandchildren John, Nick (Ally), Kate (Ryan), Markus (Madison), Abby, Paul, Victoria, Eva, Sophie, Maria, Emma, Madeleine, Julia, Sena, Jacob, Michael, Simon and Max as well as great-grandchildren Amelia and Nyla.
Our most sincere appreciation goes out to the team at the Cross Cancer facility, Dr. Eric Bedard, our family physician of over fifty years Dr. George Douchet plus of course, Dr. Peter Hum along with Dr. Janet Chiu for their extraordinary consideration, compassion and commitment to our Mom over these past twenty-four months.
Agnes was the proud daughter of new immigrants to Canada and she navigated life with compassion, faith and grace. A poem by R.L Sharpe epitomized her journey as she stepped through her entire, well lived life.
"Each is given a bag of tools.
A shapeless mass, a book of rules.
And each must make – ere life is flown,
A stumbling block or a stepping stone."
Due to COVID-19, a celebration of Agnes Lovsin's life will be held at a later date.
In lieu of flowers, the family would appreciate donations be made to the Frank & Agnes Lovsin Legacy Fund, an endowment fund at the Community Foundation of Northwestern Alberta that offers ongoing financial support to the charities in the communities that meant so much to them. www.buildingtomorrowtoday.com