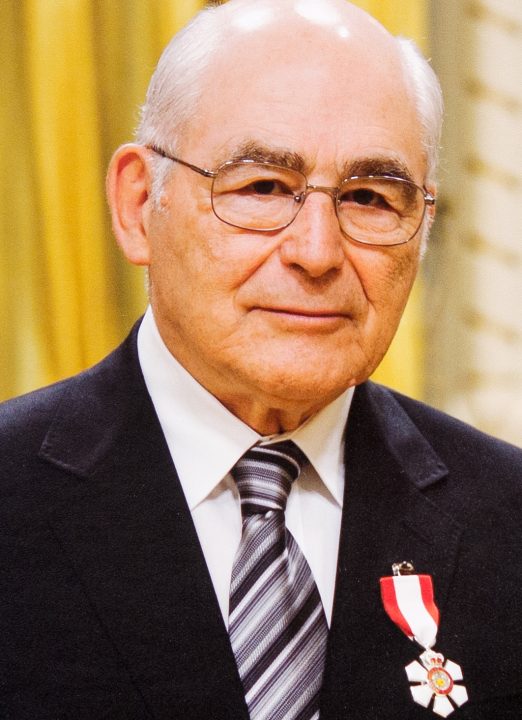 It is with profound sadness that we announce the passing of Frank Leo Lovsin of Stony Plain, Alberta and formerly of Peace River, Alberta on November 20, 2022 surrounded by his loving family.
Frank was born January 28, 1934 in the small town of Mountain Park, Alberta and his affection for this community and the entire Coal Branch was very clear to all who knew him. Mountain Park and Cadomin, where his beloved wife Agnes was from, were the places he loved all his life. The air, the wind, the mountains and the people.
We heard often that when the coal mine closed in Mountain Park in June of 1950, that this was a defining moment in his life. This decision led to a lifelong journey of being in control of his own destiny and assuming the responsibility for looking after those he loved and cared for. After an initial move to Edson, Frank began a career in the meat business with Canada Packers and this eventually led to his entry into business in November of 1955 with the creation of Freson Market Ltd. in Hinton, Alberta. From this small meat shop on movable skids to Freson Bros. of today, he was extremely proud of all those who helped along the way with this incredible journey, which continues to this day.  
The Coal Branch influence came calling again when our folks met at a wedding in Edson and within a year, they were married on June 13, 1959. They started building a life together in Hinton followed by a move to Peace River in 1962 which would be home to them for the following fifty-eight years. In Peace River, we remember our Dad being at all of our school and sporting events including figure skating, Ukrainian dance, piano recitals, track and field, hockey, football or baseball and more often than not, he was coaching one of us at the time. Whether it was hitting pop flies to us and our friends at the Forestry, playing road hockey in the winter on Sunday afternoons or teaching us about life, he was there with us, for us and with his biggest booster, our Mom.
Frank was forever busy working on another project whether it was for the local Chamber of Commerce, a provincial or national board, or on a new business venture. He always looked for the positives in all situations and had an inherent gift in believing the best was yet to come. We heard often that the difference in business, every business, were the people and he proved it many times over. We remember our Dad being busy and as we grew up, we spent more and more time with him at the store. As we got older, only then did we appreciate the value of the time we spent with him and the lessons that were learned along the way. 
Our Mom was Dad's biggest fan and very often he indicated that he could not have built our company, Freson Bros., without her. Whether it was in the garden weeding and watering the flowers or listening to Mozart loudly in the living room, she was with him every step of the way and although they were two people, they were one person with similar dreams, aspirations and beliefs. Their love and respect for each other was apparent to all and we think that is the greatest gift parents can give to their children. Frank was a man of incredible character, integrity and devotion who led by example in all aspects of his life, every day.  
Most of all, he was a proud husband, father, grandfather and great-grandfather who will be missed every day. Frank was predeceased by his wife Agnes, his parents Frank and Eva, brother Joe and survived by his sister Anne Koebel, brother Dan (Rose), sister-in-law Pat, his children, Mike (Gloria), Paula (Henry), Doug (Deanna), Ken (Maureen) and grandchildren John, Nick (Ally), Kate (Ryan), Markus (Madison), Abby, Paul, Victoria, Eva, Sophie, Maria, Emma, Madeleine, Julia, Sena, Jacob, Michael, Simon and Max as well as great-grandchildren, Amelia and Nyla, and many nieces and nephews.
Our most sincere appreciation goes out to Dr. Peter Hum and to Dr. Janet Chiu for their extraordinary consideration, compassion and commitment to our Dad over these past twenty-two months.
Frank was the proud son of new immigrants to Canada and he navigated life with compassion, integrity and character. When he was bestowed the Order of Canada in June of 2010, we were all so incredibly proud of this recognition and typical of Dad, his response was, "Why me?"
A poem by R.L. Sharpe epitomized his journey as he stepped through his entire, well-lived life:
"Each is given a bag of tools.
A shapeless mass, a book of rules.
And each must make – ere life is flown,
A stumbling block or a stepping stone."
A Funeral Mass will be held for Frank Lovsin in Peace River, Alberta at Our Lady of Peace Catholic Church on December 2, 2022 at 10:00 am.
As well, a celebration of the life of Frank Lovsin will be held in the spring of 2023 in Stony Plain, Alberta.
In lieu of flowers, the family would appreciate donations be made to the Frank & Agnes Lovsin Legacy Fund, an endowment fund at the Community Foundation of Northwestern Alberta that offers ongoing financial support to the charities in the communities that meant so much to them. www.buildingtomorrowtoday.com