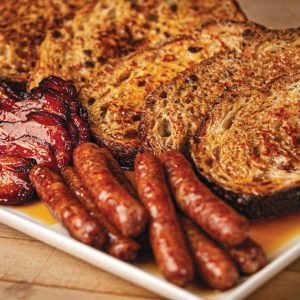 Freson Bros. Breakfast for Dinner
Everyone loves Breakfast but it is just as delicious and quick at Dinner time. Bacon, eggs, sausage and sourdough are an irresistible meal.
Ingredients
8

Freson Bros. Sourdough Slices

4

eggs

1/2

cup

full-fat milk

1

tsp

cinnamon

2

tbsp

butter

8

slices

Banj's Smokehouse Bacon

4

links

Ivan's Breakfast Sausage

100% maple syrup
Instructions
Preheat the oven to 400°F.

Line 2 baking sheets with foil or parchment paper. Arrange bacon in a single layer on one baking sheet and Ivan's breakfast sausages on one layer of the other baking sheet.

Put both baking sheets in the oven. Bake for 20-25 minutes until your desired doneness. Once finished, remove from oven & transfer bacon & sausages to paper-towel-lined plate, or serving dish.

Add the milk, eggs, spice, and cream to a mixing bowl & whisk everything together. Pour the egg mixture into a casserole dish. Place the bread into the egg mixture to coat evenly, then flip it to coat the other side.

Heat up a non-stick pan on medium and add the butter. Once the butter is melted add 2 slices of the soaked bread to the pan. Leave to cook until the bottom is golden, about 2 minutes. Flip the bread and cook the other side until it is golden also.

Transfer the toast to a plate or serving dish. Cook the remaining bread, repeating soaking and cooking for each slice.

Serve warm with maple syrup!
Video