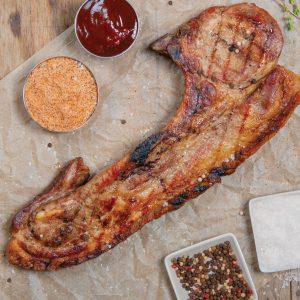 Alberta Pork Saddleback Chop
This unique heritage cut includes part of the loin, ribs and belly all with the skin left on which will crisp up into golden crackling making a unique meal.
Ingredients
1

Heritage Cut Alberta Pork Saddleback Chop

kosher salt
Instructions
Season the skin as well as both sides of the pork chop with kosher salt. Allow it to sit, unwrapped, in the fridge for 24hrs.

Preheat your oven or bbq to 400°F. Then preheat a cast iron pan or plancha until it begins to smoke.

Sear the skin side on the cast iron and continue to cook on med-high heat until skin is crispy and golden (Approx. 8-10 minutes).If using a pan, you may have to do this in 2 separate sections as the chops are long.

When removing the skin from the cast iron use a metal spatula and place the chop on its side to brown on the cast iron pan (Approx. 5-6 minutes).

Flip the chop over and sear for an additional 5 minutes.

Transfer the pan or plancha into the oven or bbq to finish cooking (you can also transfer to a baking sheet) Cook until the internal temperature reaches 150°F and then remove and allow to rest up to 160°F.