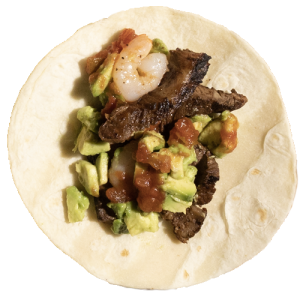 Alberta Beef & Prawn Soft Tacos
A quick surf and turf taco for something different.
Ingredients
12

pack

Western Family medium tortillas

2

Alberta Beef Chuck steaks marinated in Store

1

package

Western Family frozen cooked white prawns

30

ml

Western Family vegetable oil

salt and pepper to taste
Instructions
Thaw package of prawns in fridge overnight. Remove tails. Set aside.

Heat oil in frying pan on medium high heat until oil starts to shimmer. Add sauced Alberta Beef Chuck Steak to pan and cook for approximately 2 1/2 minutes per side. Remove beef from pan at desired doneness and let rest for 5 minutes. Tip: You may want to cook Alberta Beef Chuck Steak past medium rare to fully render the fat.

While steaks are resting, season the prawns lightly with salt and pepper and add to the still hot pan. The prawns are already cooked so just heat thoroughly — about 1 1/2 to 2 minutes. Remove from pan.

Chop steak into thin strips.

Place the tortillas in a dry (no oil) frying pan over medium heat and cook for about 30 seconds per side.

Spoon beef and 2 shrimp down the centre of each tortilla. Top with diced avocado and salsa and roll up.
Video
Notes
Remember you can get your meat Sauced or Seasoned for Free in store.